Name of PCH: Golden Links Lodge 2280 St. Mary's Road, Winnipeg MB
Location of indoor PCH Visiting Area: FRIENDSHIP ROOM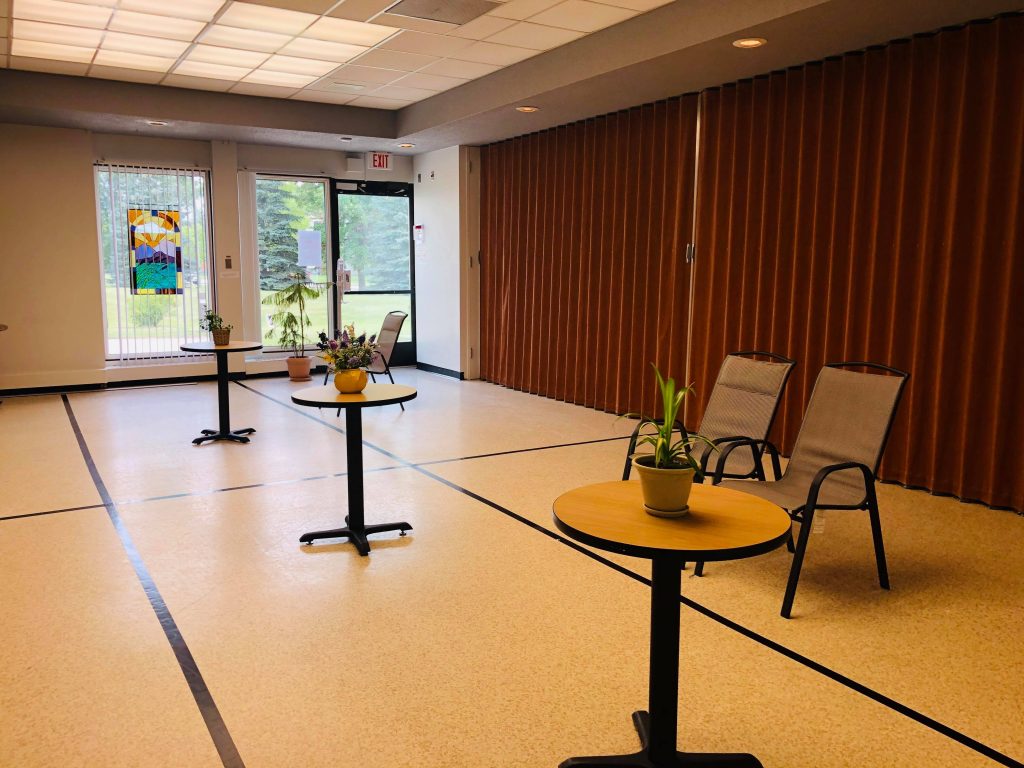 What you NEED to Know
Effective Monday June 29, 2020, we will discontinue the outdoor visitation and move to indoor visitation for families and residents. We will not be offering both indoor and outdoor.
There are some mandatory rules that we must advise everyone of in order for you to be able to enter into our facility and have a safe and healthy visit with your loved one.
1) All indoor visitation is by appointment only. No walk-ins. If you have not received a confirmation for your booked appointment we cannot support a visit. If you are having trouble with the booking process please contact us! We want to be sure that you are getting in to see your loved ones! We have had several folks just show up to our facility and expect that we just make it work. Please understand it's not that easy to organize all the visits as there are by time, spaced apart, require staff for transporting, we must ensure residents have had their meals, have had their meds, are clean and ready, etc.
2) Masks are mandatory and all visitors are required to wear one – visitors are to supply their own non-medical mask.
3) There is a mandatory screening process that you must participate with, failure to do so will result in no visit with your loved one.
4) All visitors will be required to continue social distancing and be respectful of the area's taped off sections.
5) Hand hygiene is mandatory there will be foam hand sanitizer provided during screening.
6) There will be no visitors allowed beyond the visitation area.
7) There will be no visitors allowed anywhere in the facility other than the designated indoor visitation area.
8) Visitors will not have access to resident rooms, nursing stations, dining room, lobby, hallways, etc.
9) Two (2) visitors allowed at any time only.
10) Two (2) visits per week, per family, per resident. There will be no exceptions to this at this time.
11) We will not be able to offer any aides or devices during the visit given the enclosed spaces (i.e.; phones, iPad).
12) Visitors are not bring any snacks, drinks, etc. to the visit.
13) Visitors will not have access to washrooms before, during or after the visit.
14) Visitors will not be offered any food or beverages before, during, or after the visit.
15) Families and staff are asked to not "visit" during the transporting/drop-off of residents to and from the designated visitor area. The indoor visitor area is located in the Friendship Room. When you attend the facility for a visit please come up to the building to the main entrance doors don't go into the building but rather go right down the sidewalk. Just to clarity…if you are facing the building you will follow the path to the right, there will be signs pointing in the right direction. You will walk all the way around the building to the other side of the Friendship Room. Here you will be greeted by the Covid Screener. You will be asked a series of questions, your temperature will be taken, you will sanitize your hands, place your mask on and be escorted into the indoor visitation area. Please remember that failure to willingly participate in the screening process will result in your visit being cancelled. Once in the visitor area we ask that you exercise social distancing 6' apart.
Most importantly, ENJOY YOUR VISIT!!! Even with all the rules we still want you to have a good visit! Remember these rules are in place to protect our residents!
Please identify Essential Visitors – required before you book a visit.
***Days and times requested are not guaranteed and will be confirmed by Business Office upon confirmation***
---